Artwork Updates
SpaceX Falcon Family of Rockets Illustration Updated
SpaceX Falcon Rockets
(
View Larger Version
)
Falcon 9 with Crew Dragon has now been added to the Falcon rockets graphic.
---
ISS Visiting Vehicle Illustrations Updated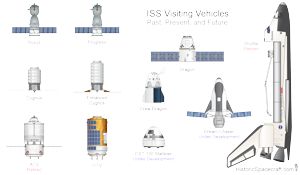 Comparison of ISS Crew and Cargo Vehicles
(
View Larger Version
)
The ISS Visiting Vehicle illustration now includes updated graphics for Crew Dragon and Dream Chaser.
The Interactive ISS Visiting Vehicle Illustration Tool has also been updated with the improved artwork.
---
Posted 6 July 2019