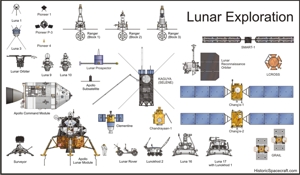 Comparison of lunar exploration spacecraft.
(
View Larger Version
)
Robotic Lunar Exploration
Since the late 1950's, well over 50 space probes have been sent to explore Earth's moon. Many early missions failed to complete their objectives.
The Soviet Union accomplished several important firsts, including the first probe to impact the Moon (Luna 2) and the first probe to land and return data from the surface (Luna 9).
After a string of failures, the first completely successful American mission was Ranger 7 in 1964. More American missions, including the Surveyor landers and the Lunar Orbiter survey missions, helped pave the way for the Apollo Lunar Missions later in the decade.
Soviet missions flown in 1970 included both the first robotic lunar rover, Lunokhod 1, and the first successful automated sample return mission, Luna 16.
After several decades of relatively few missions, lunar exploration has seen a renaissance of sorts in recent years. During the last ten years, lunar missions have been flown by the United States, Europe, Japan, India, and China. A number of additional missions are currently being planned